"Sun's Out, Guns Out" - Game 1 of 12!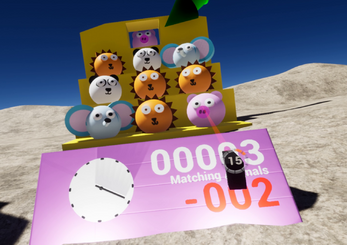 With only hours to spare, I present to you game #1 of 12 in my 12 month challenge - "Sun's Out Guns Out".
January's game really does have nothing to do with summer or beach bodies or anything like that - it's actually a small prototype of what something like NAMCO's Point Blank could look like in VR. The title is just a literal description of what's in the game and a way to grab your attention 😋 (if you're reading this, it worked!)
So, I've learnt a couple of things from this prototype:
VR games are really fun to make.

There are certain things which you should do in "pancake" games - lens flare, camera shake, elaborate particle systems - which you should never do in VR. (I think I got away with a muzzle flash effect, but that was pushing it!)

That non-VR games are now called "pancake" games. Interesting.

So yeah, this took me around 5-6 evenings to create, so don't expect anything too insane - but it is kinda fun. It also has given me a taste for VR and you may see VR make another appearance over the next 11 months!
And if you feel nosey/adventurous/intrigued, the full source code is also available at:
https://github.com/tinygooseuk/SunsOutGunsOut
. You won't be able to build and run the game from that as it's missing the project files and assets, but you can see how it was done!
- Joe -